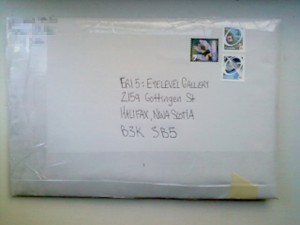 I have a recent book project being displayed in an upcoming  at the Eyelevel Gallery in Halifax.
It is called 'ERI 5: The Resistance to Change' from March 1, 2012 – March 31, 2012.
/ˈsēkrit/: /T͟hē/krəˈvas/ is the first of a varied edition of 10 small photocopied books.
Each expresses a stationary moment telling pieces of a story through imagery, but never fully revealing the whole picture used to create it. /T͟hē/krəˈvas/ visually explores the intimate and fragile action of telling a secret.
Pictures of the book are in the online gallery here.